QUINCY HIGH SCHOOL FOOTBALL
ATLANTIC COAST LEAGUE
NORTH DIVISION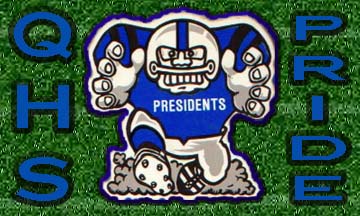 Dr. Richard DeCristofaro, Superintendent of Schools
Mr. Frank Santoro, Principal
Mr. Ed Miller, Athletic Director.
Mr. Bob Noble, Head Coach
Mr. Jackie Weir, Equipment Manager
Ms. Linnea Anderson, Athletic Trainer

---


View My Guestbook
Sign My Guestbook





Never Forget......September 11, 2001


Click on the Mailbag to email us.
This site maintained by Joe Boncek FOR the Q.H.S. Football Parents Club.
This is my only affiliation with the Booster Club.
The information on this website is primarily found through the newspapers. Site updated on October 6, 2005
Copyright © 2001-2005 Quincy High School Football Parents Booster Club, All Rights Reserved.