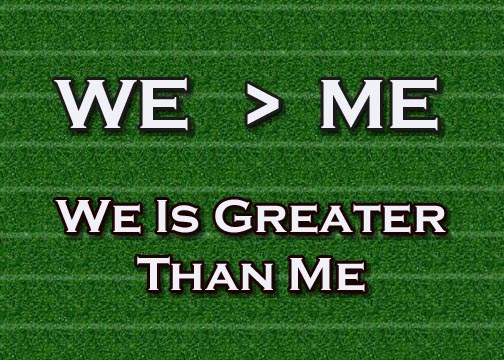 ---
TEAM NEWS
Golden Hammer Awards
Cohasset = Ngozi Aguguo
Canton = Tim Lewis
Plymouth-South = Stephen Lewis
Rockland = EJ Lewis
Duxbury = Nqozi Agugo
Whitman-Hanson = Adams Jean-Baptiste
Silver Lake = Sean Gray
Scituate = Derek Andrews
Hingham = Kenny Nguyen
North Quincy = Adams Jean-Baptiste
---
TEAM CAPTAINS FOR THE 2009 SEASON
CLASS OF 2010
NGOZI AGUGUO
JAMES NGUYEN
KENNY NGUYEN
LANCE PETERSON

---

Bring a lock for your locker! If ANY equipment is STOLEN,
it will be up to that player to PAY for the equipment!
Each player will be assigned a locker.
DO NOT SHARE LOCKERS!!!

---
THIS SEASONS GOALS!
PENALTIES--Can't Have Them, Won't Tolerate Them!!
TURNOVERS--Every Game We MUST Be At + 1 or Better!
TACKLES--90% OF EVERY GAME! If You Never Missed A Tackle, Could You Lose A Game??
---
GAME DAY GOALS!
TIME OF POSSESION--Control The Clock. Control The Ball, and Don't Let The Other Team Have It. THey Can't Score IF They Don't Have The Ball.
ICE PACK TEST--WIN OR LOSE!! We WILL be the toughest team on the field, NOT only defensively, bad offensively, and on special teams.
---
DAILY REMINDERS!!!
UNITY--WE WIN as a team, and we LOSE AS A TEAM. We are ALL in this together.
It's NOT about YOU!! You play for the name ON THE BACK of the jersey!!!
GET BETTER EVERY DAY--IF your'e NOT working to get better, we're ALL getting worse!
WE > ME!
Have 100% Eligiblity for Thanksgiving Day Game.
Be Physically AND Mentally ready to play the games
---
SOME THINGS ONLY A PLAYER KNOWS.........
The way the helmet bothers you the first days of practice.
The way you want to take it off during practice.
That great sensation of taking it off afterwards and how good it feels with that sweaty hair that cools you off.
The itching feeling of laying or sitting in the wet, cool, early morning summer grass when stretching out.
The itching of that hot dry summer grass doing the same cool down stretches in the hot afternoon sun later the same day.
The sensation of putting that boiling hot mouthpiece in your mouth and sucking all the hot water out of it to fit your mouth..
The taste of a dust filled mouthpiece after dropping it and putting it back in.
THE FIRST DAY OF PADS.
As Freshman lugging out the tackling dummies before practice, and dragging it all away after practice.
Seeing the fool who puts the thigh pads in the wrong way.
The difference between no pads and a pre-game practice, after getting used to them.
The loud fellowship in the locker room before practice.
After all the practice and finally putting on the game uniform, that gets you pumped for a game.
The nervousness before a game and taking the field to warm up.
What it's like to really give or take a good hard hit, in a game.
Sitting in a mud filled bus after a game on a muddy field. The windows all steamed up. The sound of the cleats as players get on the bus and walk down the aisle single file. The many pieces of mud imprinted with cleat marks all over the bus floor.
The special feeling and comraderie of being part of a TEAM.
Making friendships that will last a LIFETIME!
These are some of things that ONLY a player knows.....
---
RULES AND REGULATIONS FOR ALL Q.H.S FOOTBALL PLAYERS
Unexcused absences (practice or game) - 1 game suspension
HAZING of Teammates - Suspension from 1 Game to Dismissal from Team.
Disrespect to Coaches, Teachers, Game Officials - 1 Game to Dismissal from Team.
Drug or Alchohol related incidents, see MIAA Rule 71.1
Walking off or leaving during a game - Dismissal from team.
STEALING (from teammates or opponents) Dismissal from team.
Getting caught out of school bounds during school hours - 1 Game suspension.
If you are an injured player and cannot participate in practice or games,
you WILL still attend practices for at LEAST one hour.
You WIlL also attend all games, ride on the team bus, and wear your game shirt in support of the team.
The trainer's room is NOT a "Social Center." Get IN and Get OUT!
---

PLAYERS PLEASE LET YOUR PARENTS KNOW THAT THEIR HELP IS ALWAYS
NEEDED IN THE CONCESSION STAND, ALSO TO ASSIST IN SETTING UP AND BREAKING DOWN
THE STAND AT THE VARSITY HOME GAMES!!!!!
Thank you. Coach Reardon, and his Staff and The Boosters Club
Q.H.S Athletic Dept. 617-984-8782
Coach Bill Reardon
Email address breardon@quincy.k12.ma.us