Keenan Division
Division 2 A
Fisher Division
Division 3

Quincy
Duxbury
Hingham
Silver Lake
Whitman-Hanson
Plymouth - North

North Quincy
Hanover
Middleboro
Pembroke
Randolph
Scituate


Never Forget September 11, 2001

ANY QUESTIONS OR ERRORS PLEASE CLICK ON THE FOOTBALL PLAYER TO CONTACT THE WEBMASTER AT QHSFBCLUB1@YAHOO.COM qhsfbclub1@yahoo.com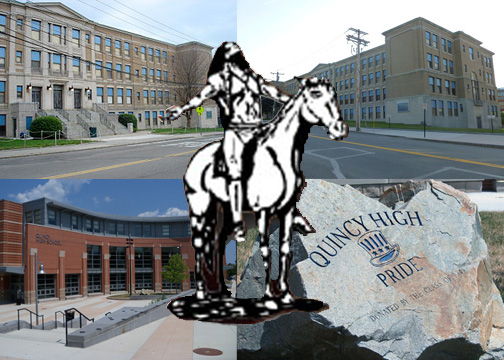 Dr. Richard DeCristofaro,
Superintendent of Schools
Principal, Lawrence Taglieri
Mrs. Ellen Murrey, Assistant Principal
Athletic Director Patrick Lane.
Mr. Bill Reardon, Head Coach 10 year record 49-58
---

Congratulations to the 2015 Hall of Famers..
Theodore Brogioli, Class of 1950
Jeff Burrell, Class of 1994
Edward DeWitt, Class of 2004
Frank Guido, Class of 1973
Mike Kavanaugh, Class of 1993
Marvin Weinstein, Class of 1954
Posthumous Awards,
Joe Baker Class of 1989 Football
Barbara Tappan Mahan Class of 1957 Cheerleader
---

This years Players Of The Game picked by The Quincy Sun.

Defensive Player, Garrett Cronin. A very disruptive player on defense.
Offensive Player,
Jahvae Hansom-Fields. 296 yards rushing and 4 touchdowns. In his 3 Thanksgiving Day Games he had 510 yards and over 3,000 yards in his career. DB Jahvae Handsom-Fields (5-9, 170, Sr.), Quincy USA Today All State Team. 2nd Team DB.
---
---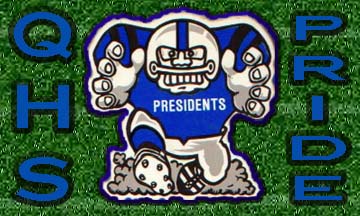 This site maintained by Joe Boncek H.O.F ('08) for the Q.H.S. Football Parents Club. Past President of The Q.H.S. Football Boosters Club.
Copyright © 2001-2015 Quincy High School Football Parents Booster Club, All Rights Reserved.